Romance writer Rocklyn Ryder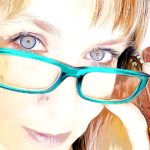 Welcome to the online home of romance writer Rocklyn Ryder where you can find a complete list of currently available books, previews of works in progress, and updates on most things Roxie.
In real life, I'm just your average middle age woman– working the day job and trying to keep the bills paid, the weight down, and the plants alive.
Two out of three ain't bad.
I started writing on a dare and was nothing short of shocked when my cutesy short romance stories actually got read
Who'da thunk it?
I write em short, cute, and a little dirty with leading men who are all hard muscle and soft hearts and aren't afraid to make a stand for the women they fall for.
Not every leading lady is myself incarnate, but all my heroines embody the real life women I've known in my life– the ones who kick butt as well as the ones that have had their butts kicked.
I love that as a romance writer, I get to fix all those broken and elusive happy ever afters…theirs, as well as mine.
Be sure to like and follow me on the social media platform of your choice to stay connected and subscribe to my private mailing list for all the general shenanigans that don't get shared elsewhere. I'll never spam your inbox and I never share my contact list.
Have fun exploring the site, and I'll be looking forward to hearing from you.
Glad to have you here,
Rox